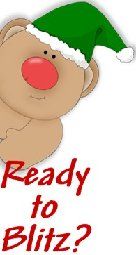 Two days of last-minute shopping excitement!
Mark you calendar for

Sunday

&

Monday December 15-16, 2013
Bright Star Promotions, Inc. is hosting a Special Holiday Bear Blitz - Artist Teddy Bear Show Online!

Your last chance this year to see fabulous bears, created for this online show exclusively from our 38 Bright Star Teddy Bear Show Exhibitors and Bears&Buds Professional Artists, who participated in 2 of our past online shows.

Giving a bear brings joy to the recipient and to you too!

You could even leave a bear under the tree for yourself tagged 'From Santa'
My preview bear for Blitz Show
The show page is ready and you can go there visiting the teddy bears gallery created for the event.